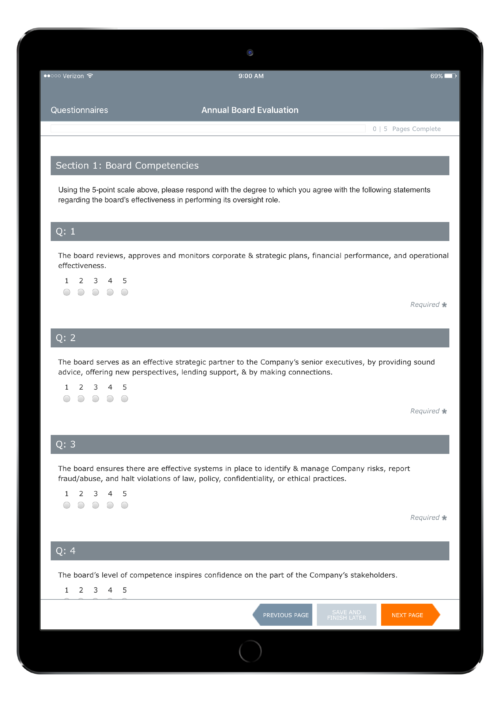 Diligent Board Evaluations
Does your board culture and composition need an adjustment? Are policies and procedures following the necessary governance best practices? As part of our Governance Cloud ecosystem, Diligent Board Evaluations helps your organization answer these questions by putting valuable board self-assessment data at your fingertips.
It's a convenient alternative to cumbersome spreadsheets and off-the-shelf surveys, making it more cost-effective than outside consultants. Every aspect of its functionality has been informed by Diligent's experience with corporate, nonprofit, healthcare and financial/banking boards worldwide.
For Board Administrators
For administrators that are already busy with the many details of meeting preparation and governance coordination, Diligent Board Evaluations streamlines the process of board assessments.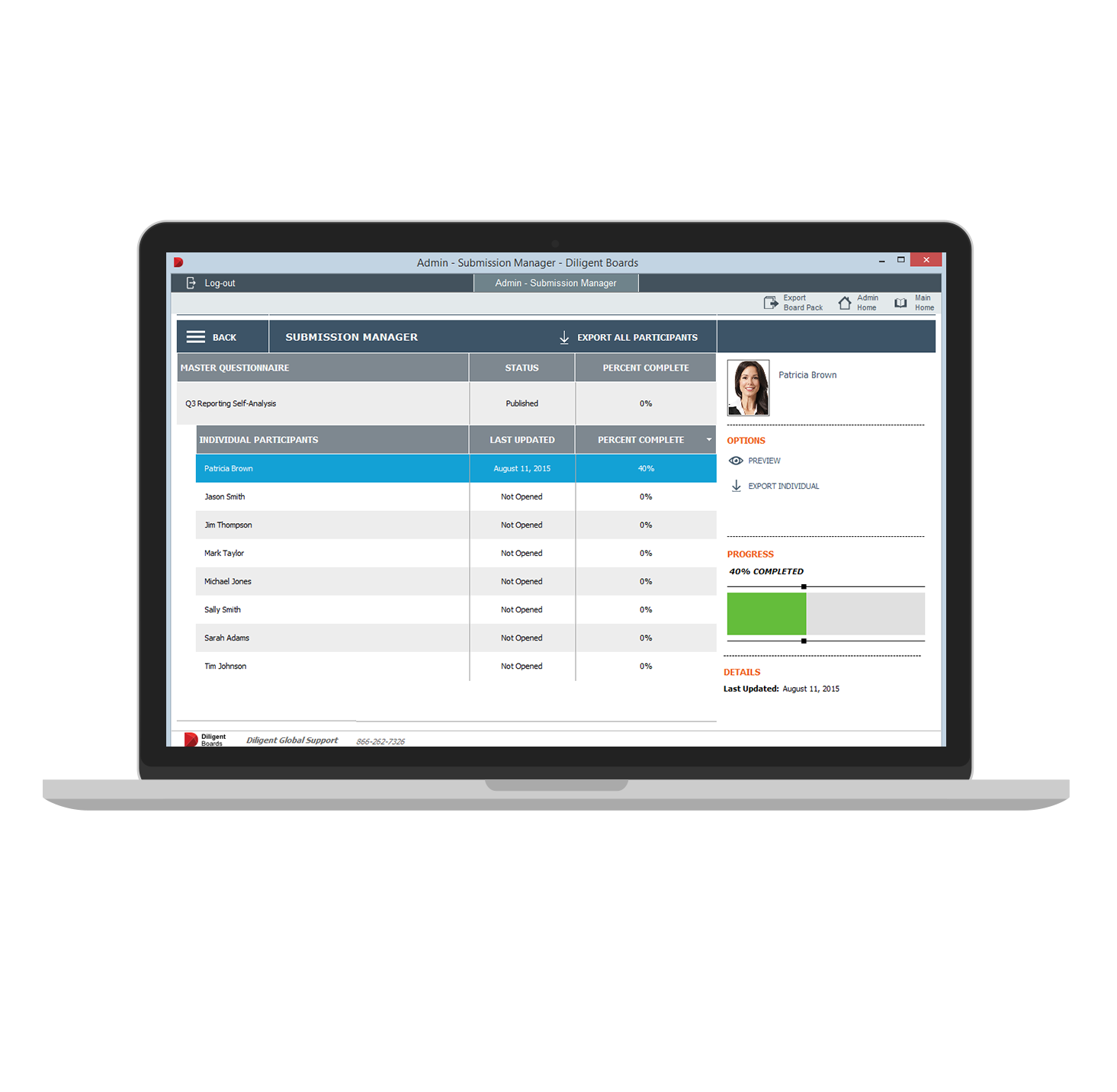 Customize assessments and gain insight into past results

Personalize your assessments with multiple user-tested question types, incorporate glossaries and supplemental reference information, and view past evaluation results with only a few clicks

Monitor submissions

Monitor completion status, set and change assessment close dates as necessary and finalize questionnaires with secure e-signature sign-off

Visualize your data

Gain immediate insight into results with custom reports that incorporate visual graphs that are ready for presentations and sharing

Pull Board Evaluation Reports

Via an export wizard, custom reports can be pulled in just a few clicks

Simplify analysis with Automatic Reporting

Mitigate the need for hands-on data manipulation with automatic averages reporting, which is available to simplify the analysis process
For Directors And Trustees
Diligent Board Evaluations makes it easy for leaders to contribute their insights and perspectives to board assessments. From anywhere in the world, any time of day or night, they'll be able to take advantage of key features.
Use Any Device

Complete surveys on any devices a director chooses to use: phone, tablet or computer

Add References

Use questions that link to additional information and appendices for quick reference and context

Ease-of-Use

Eliminate the need for extra training or software with our intuitive features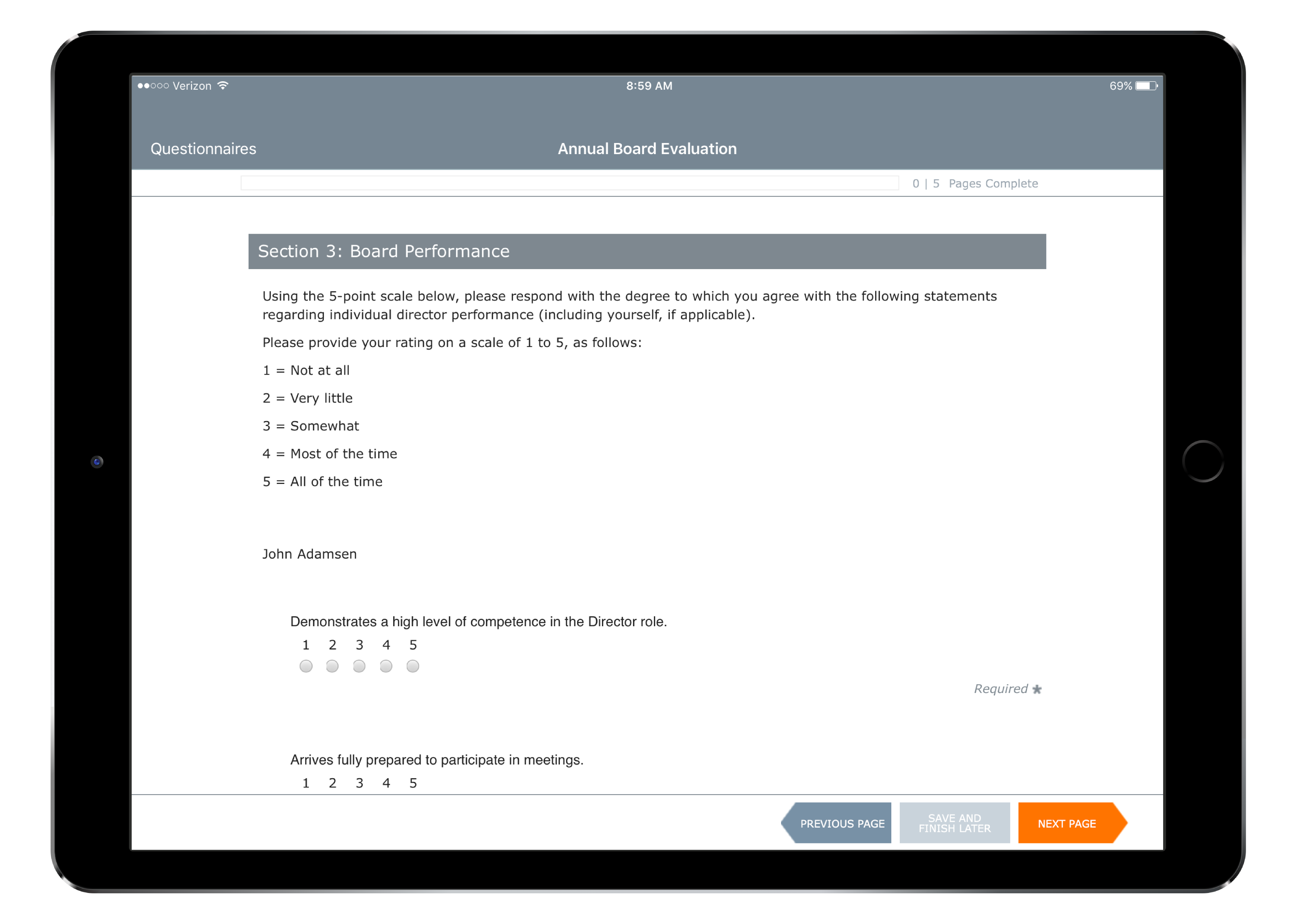 For maximum dependability and performance, Diligent Evaluations is backed by 24/7/365 "white glove" customer service and internationally audited, ISO, TRUSTe, and FIPS-certified IT security.