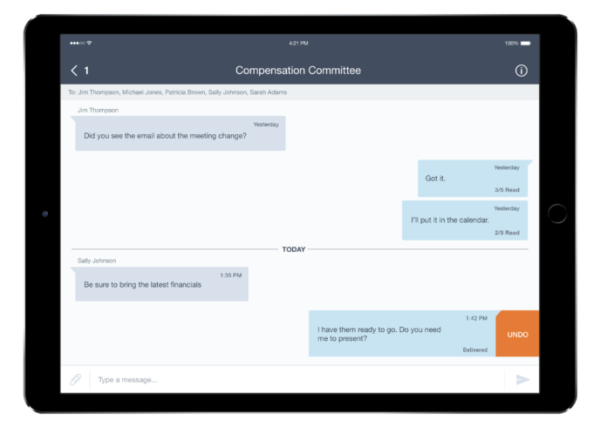 Overview
As part of the Governance Cloud ecosystem, Diligent Messenger was developed as a secure messaging tool to be used by boards of directors to ensure what needs to remain private, stays private. This secure board communication tool can be used across industries, including, but not limited to, healthcare, education, corporations, nonprofits, and financial services and banks. It operates in a similar fashion to text messaging with the same feel as popular email tools, which are used by directors.
Using email creates risks for boardroom communication as it allows messages to remain in an insecure environment. By moving confidential board communications out of personal and corporate email systems, your board can ensure that there is an easy way to communicate with the right people at the right time. Diligent Messenger integrates seamlessly with Diligent Boards™, our board management software, to enable secure messaging and real-time collaboration.
For Collaboration
Diligent Messenger has essential features that ensure privacy and security with enhanced capabilities that seamlessly allow a board of directors to execute their necessary duties with ease.
Keep safety a top priority

Enable safe, secure board member communications wherever your board of directors needs to be

Create pre-set groups and contacts

Ensure that your board committees have a private, secure channel to communicate—just like with email

Enable email controls

Remove the risk of "copy and paste" and email forwarding to ensure private conversations are kept private—additionally, users also have the added ability to retract messages

Receive message notifications

Be alerted when messages are sent, delivered, and read with additional notifications for unread messages or announcements that need to be delivered across boards

Enjoy a high level of security

Built for privacy, discoverability is not a concern with Diligent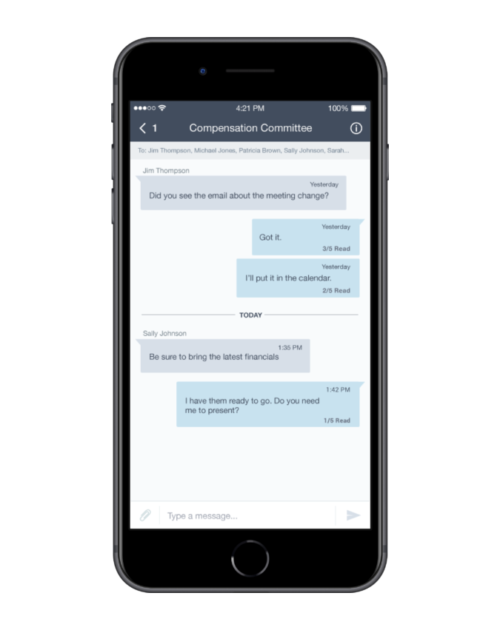 For Security
Take control of what is seen, sent, and saved. Board administrators are able to customize settings that best align with governance and regulatory requirements set by the board.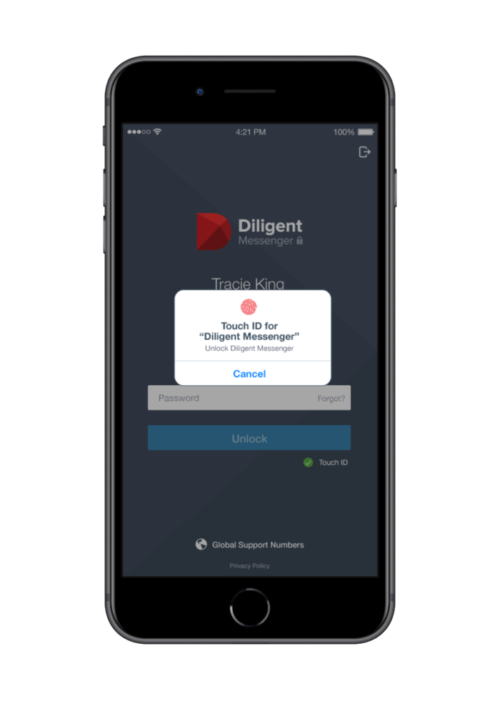 Log-in Authentication

Offers simple and intuitive access that can be set and adjusted with the click of a button, face ID, Touch-ID™ or with the swipe of your screen

Message Retention

Save what messages that are important and remove what's not necessary with no risk of discoverability

Secure Compromised Devices

"Wipe" your device remotely in the event that your device is stolen, ensuring that your board level materials stay safe
For maximum dependability and performance, Diligent Messenger is backed by 24/7/365 "white glove" customer service and internationally audited, ISO, TRUSTe, and FIPS-certified IT security.