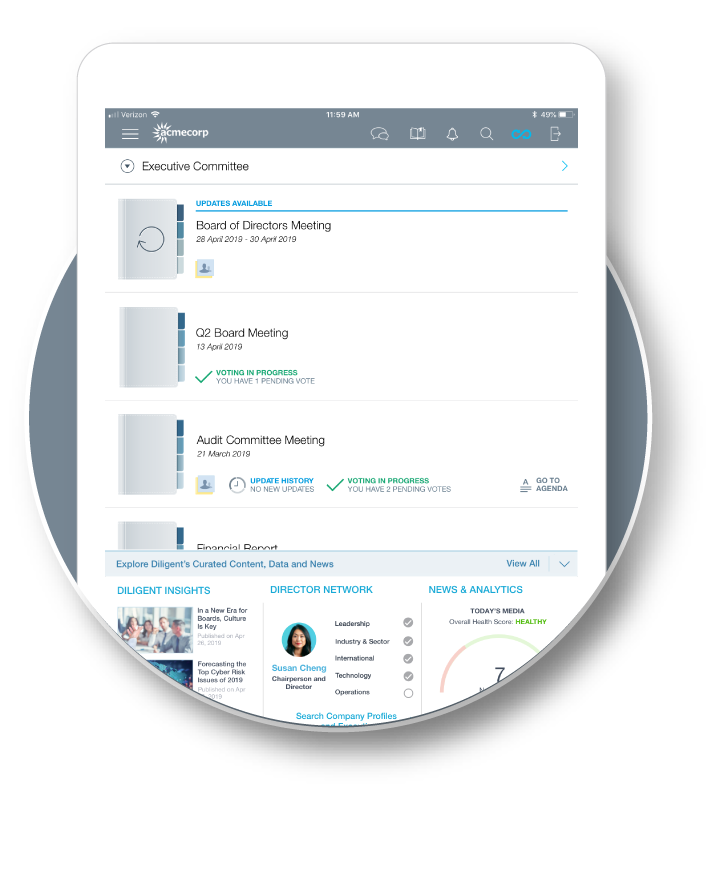 Board Management Software: Drive better collaboration
Our board management software allows boards the ability to expand their reach outside the boardroom as well as typical meeting requirements such as distributing board meeting materials in a secure environment.
Conduct board evaluations, fill out D&O questionnaires, and view industry leading thought leadership in one succinct tool
Real-time industry and company analytics, curated news and director resources to stay current to match the fast pace of business
Access director data to improve governance oversight on issues like board diversity or director interlocks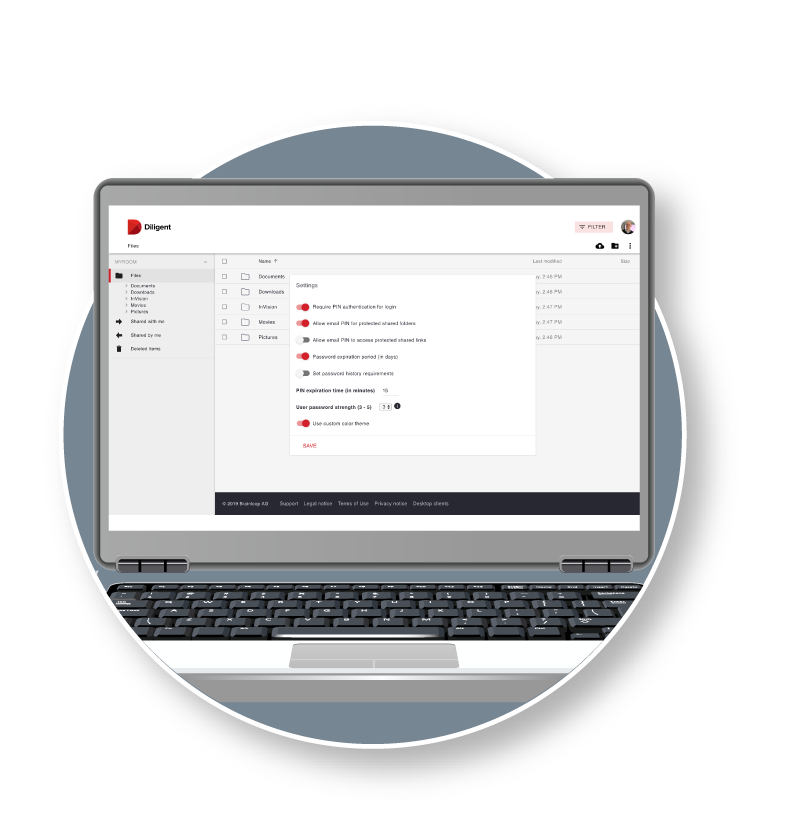 Entity Management Software: Your single source of truth
Diligent Entities helps organizations centralize, manage and effectively structure their corporate record to improve entity governance to better ensure compliance, mitigate risk and improve decision making
Integrate data from multiple business units like legal, tax, finance, treasury and compliance in a single system of record
Integration between Entities and the rest of the Governance Cloud ensures your most critical entity and subsidiary information is securely conveyed to those who need it, whether that is the board or auditors and regulators
Easily and efficiently file necessary form electronically to specific regulatory bodies within applicable jurisdictions across the globe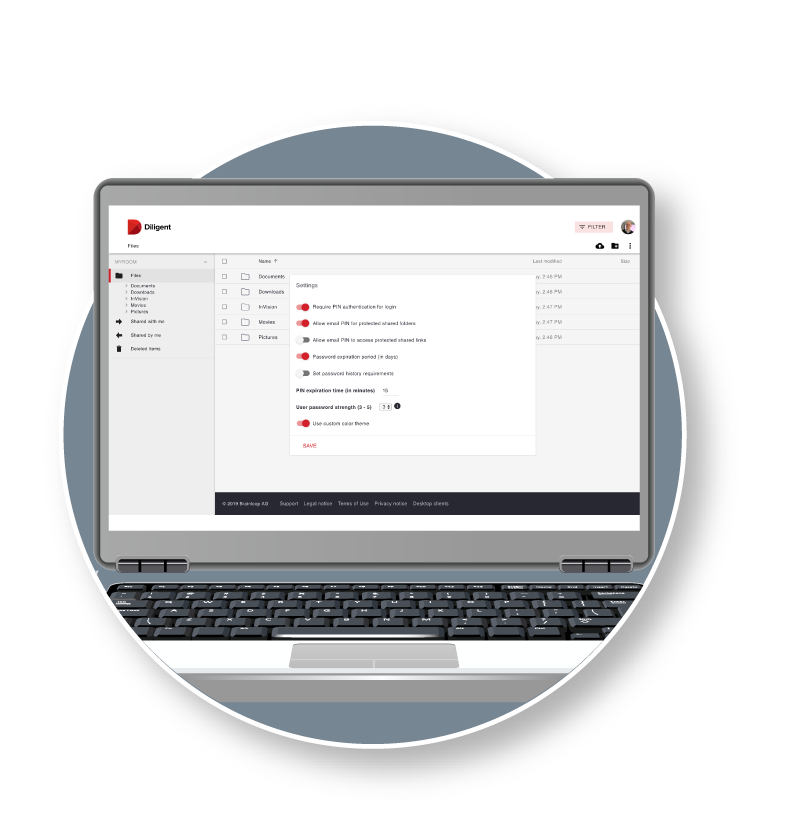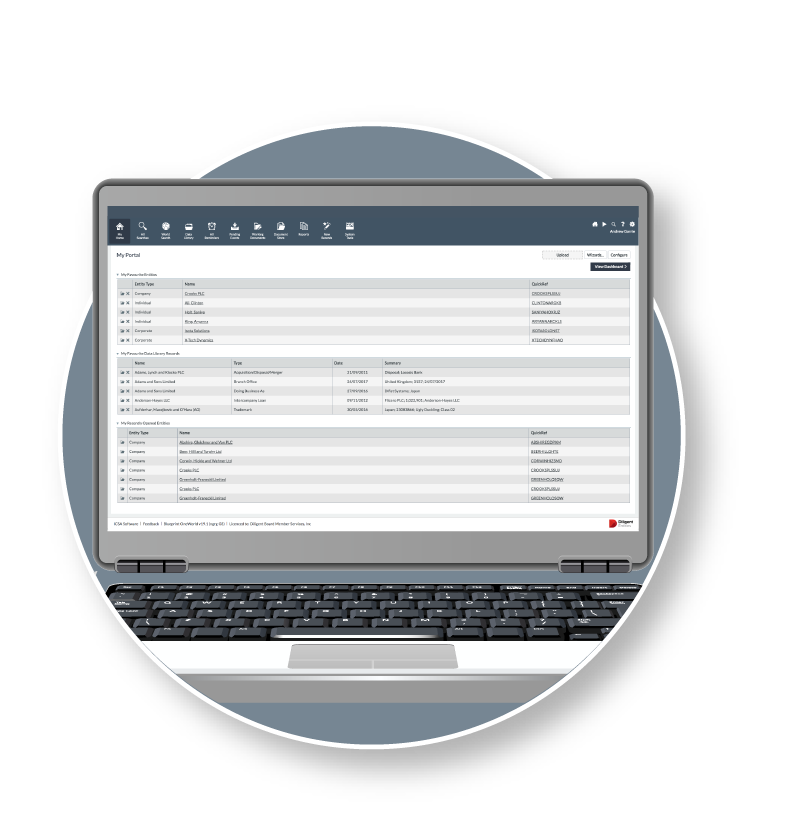 Actionable Insights & Analytics at your fingertips
Boards and leaders require real-time data and information about their organization, competitors and market movements and relevant governance topics. With the right insights and analytics your board and executives can meet businesses challenges in real-time.
Eliminate time-consuming tasks of wading through massive amounts of data by leveraging our artificial intelligence and hone in on key insights, developments and trends
Real-time industry and company analytics, curated news and director resources to stay current
Create custom reports and alerting based on corporate health changes or specific events
Modern governance by Diligent
Good governance depends on many factors. You need software that manages every aspect of the challenge, not just document management systems. We help governance leaders add greater efficiency and effectiveness to cooperation between directors. The result is better questions being asked, deeper insight, and added value in all aspects of governance. This is particularly relevant for Luxembourg-based multinationals which face ever changing regulatory and market challenges in numerous jurisdictions.
24/7
five-second call response
100+
fund or financial services customers in Benelux