Diligent Messenger
---
The safer, smarter way to email and message
We understand that Directors use email to communicate because it's easy and convenient, but in doing so, they are putting valuable company information at significant risk. Not only are email and other communication tools error prone, they are also insecure and vulnerable to phishing attacks, password hacks and other potential breaches.
Don't risk communicating with your board outside of Diligent. Adopt our newest tool, Diligent Messenger.
Diligent Messenger provides Directors with a messaging platform that combines enterprise-level security with the ease and familiarity of popular text and email solutions. Best of all, you maintain total control to ensure compliance and security.
Collaborate & Communicate in Real Time

Correspond with other Directors as you review board materials for seamless collaboration and faster decision-making.
Protect Information & Prevent Leaks

Unique configuration for controlled communications including message retraction and disabled copy/paste and forward functionality.
Enterprise-Level Security & Customization

Gold standard information security management technology meets customizable settings for specific governance and regulatory compliance requirements.
Board Cybersecurity: Moving from Risky Preferences to Sound Policy
Learn More

Features Overview
For the Executives and Administration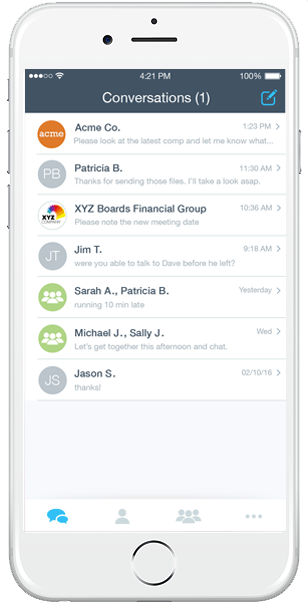 Message Control

Disabled copy/paste and forward functionality

Message Undo

Recall errant or accidental messages

Secure Login

Customizable access and authentication policies

Pre-Set Contacts

Immediate access to contacts and groups from Diligent Boards

Delivery Confirmation

Monitor when messages are sent, delivered and read

iPhone and iPad

Messages in-sync and accessible from any device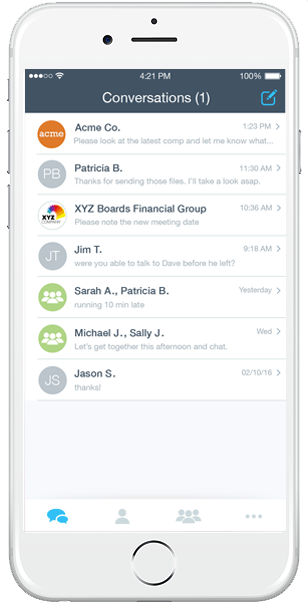 Bulletproof Encryption

Best-in-class 256 AES encryption

User Management

Control all communications from inside to outside your organization

Auto-sync

Contacts, groups and their permissions automatically synched from your Diligent Boards configuration to your Messenger devices

Message Lifespan

Configure message retention on company devices to limit discoverability

Message Archive

Retain messages on servers and devices as long as you need them

Systems Testing

Routine independent third-party penetration testing
Get Started Now
Talk to us today to find out more or reserve a demo